Why burn discs?
Burning your media and data files to disc is a great way to preserve, protect, and share files with friends, family and fans.
Work more efficiently with your media using these intuitive burning tools:
Create customized discs with themed menus to share personal moments with friends and family
Make backups of your photos and videos from a trip, event, or everyday life
Produce audio mixes o play in a CD player or in the car with adjustable track lists and crossfades
Secure private or personal information to disc for safe keeping with banking level encryption
and more!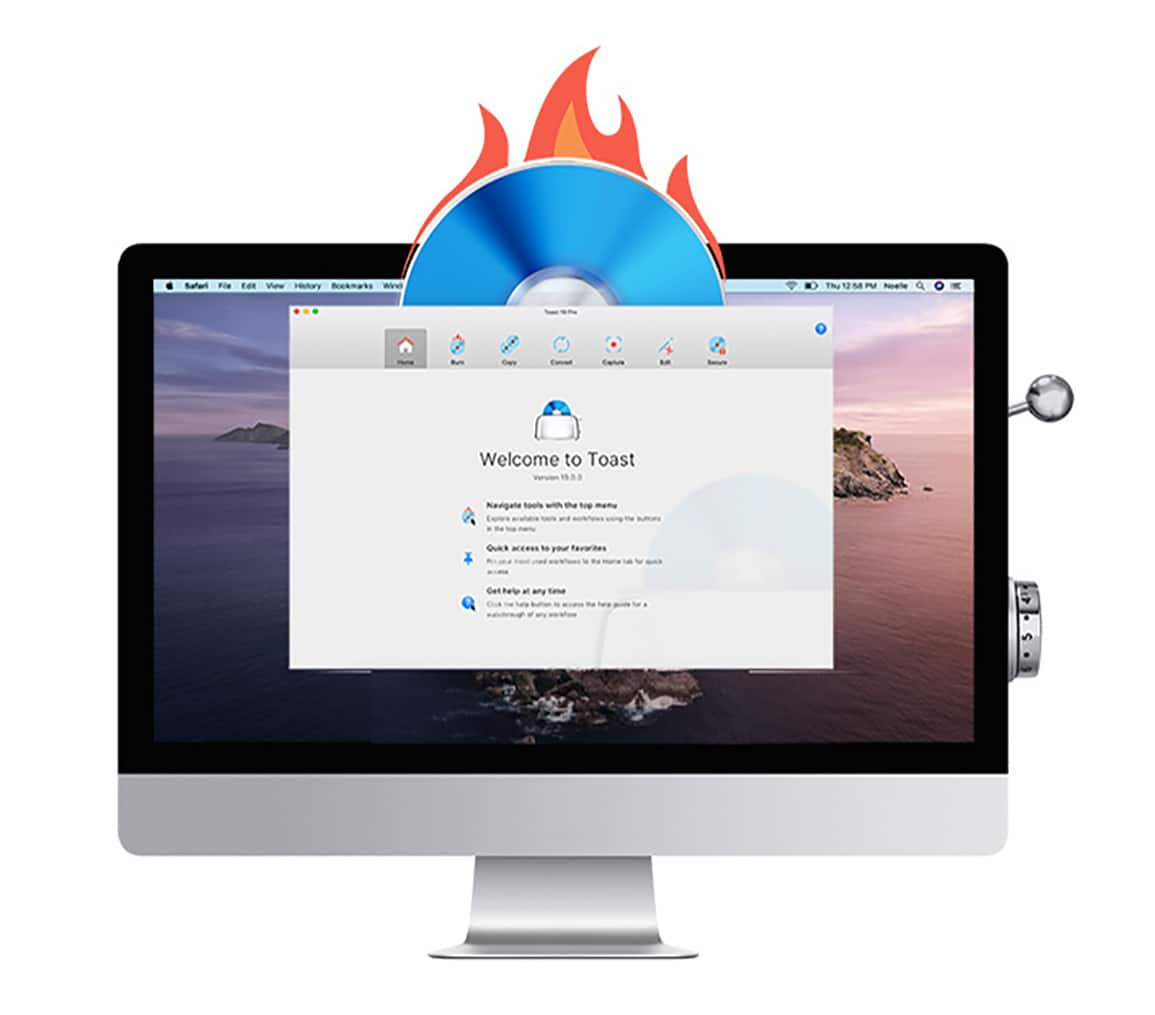 What types of files can you burn to disc?
Roxio Toast enables you to work across all your preferred digital media formats with intuitive tools optimized for macOS Big Sur to burn your video, photo, audio and even data files to disc.
Burn video discs with your home videos, family memories, dance recital recordings and vacation videos to disc, even add custom chapters and menus to easily browse through and play your favorite moments again and again. Enjoy themed templates for any occasion to create and deliver discs for wedding videos, to send grandparents a recording of a graduation ceremony, and so much more.
Add your photo files to burn a multi-purpose photo disc to archive original raw photos without conversion time or any loss of quality. Photo discs are a great way to create high-quality slideshows to show at a family event, conference or trade show, and they enable you to easily share photos with Mac or PC users in a standard format that can be used in printing kiosks or by retail photo finishers.
Create audio discs including CDs, MP3 discs and music DVDs with your audio files. Enhance your audio files, reduce distracting background noise, adjust the pitch and duration of clips, and get creative with audio effects before adding tracks to your disc. Adjust tracks, add pauses or crossfades, even span audio across multiple discs!
Burn your files or folders as a data disc to back up important information, to store files, or even to share files with friends, family or clients. Enjoy options to burn Mac and PC compatible discs, or restrict access to the files to make your data disc readable by Mac or PC exclusively.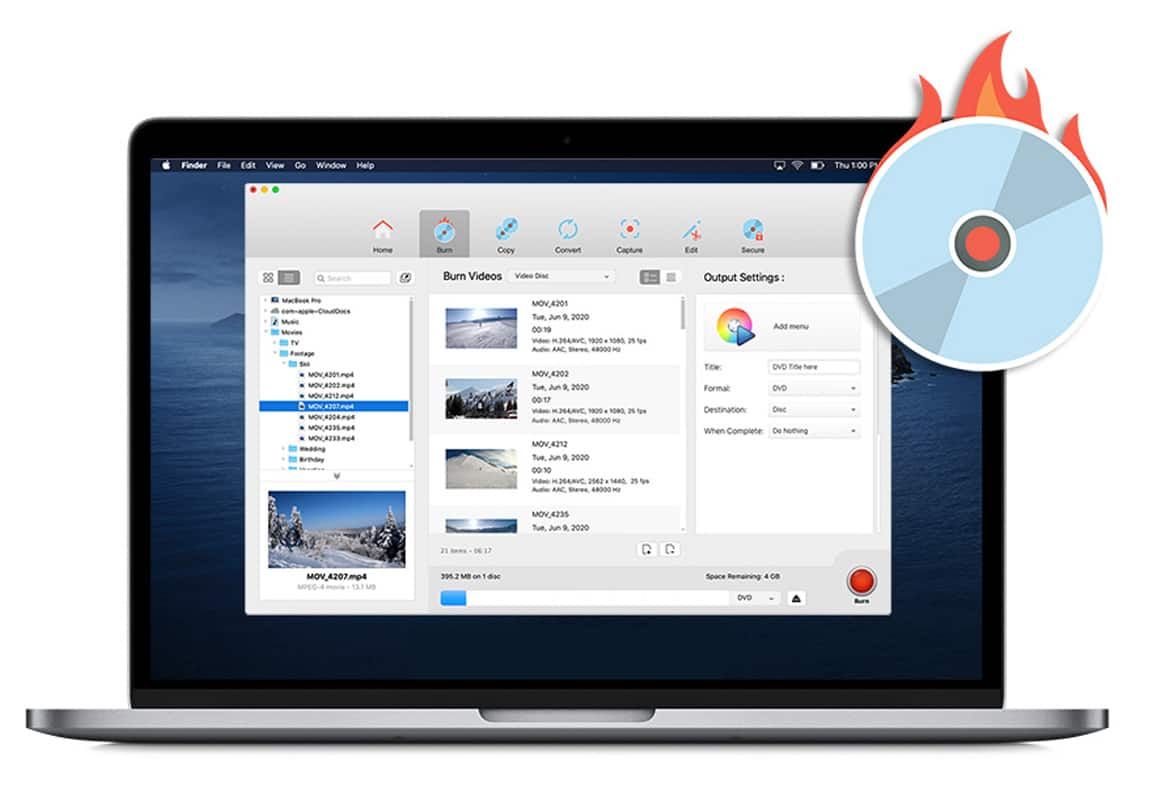 How do I burn discs on macOS Big Sur?
It's easy to burn discs on macOS Big Sur with the easy-to-use tools in Roxio Toast, the total disc burning and digital media toolkit for Mac.
Install Roxio Toast

Toast 19 is available for purchase from the Roxio website. Toast includes all the tools you need to create disc and digital media projects.

Select your workflow

Open Toast 19 and click the big red Burn button in the top menu to open the list of disc burning projects you can create. Select your desired output from the list to launch that workflow.

Insert your disc (optional)

The burning workflows show a capacity bar that will indicate the remaining space available on your disc. Inserting your disc now will allow you to monitor the space on your disc as you add files in the next step.

If you plan to save your disc project digitally or plan to burn your files to disc another day, you can skip this step.

Drag and drop your files

Use the media finder in the left panel to locate your files, then simply drag and drop the files or folders to the middle panel to add them to your disc.

Adjust the order of the items added to your disc by dragging and dropping. The capacity bar in the bottom of the window indicates the space remaining on your disc.

Note: If you're looking to author a disc with custom chapters and menus, check this guide.

Confirm export settings

Check the settings in the right side panel to confirm you're ready for export.

If you are burning a large project or planning to step away from your computer as your disc is burned, Toast offers convenient options so you can preselect what it should do next – return to the menu, start a new disc, or close the application.

Burn your disc

When you're happy with your settings, click the big red Burn button in the corner to begin burning your disc.
For more information on specific workflows, please refer to the user guide.
Can I burn Blu-ray discs on macOS Big Sur?
It's easy to burn discs on macOS Big Sur with the easy-to-use tools in Roxio Toast, the total disc burning and digital media toolkit for Mac.
Which macOS are supported?
Toast is fully compatible with the latest macOS. Toast 19 has been tested and optimized for macOS Big Sur. Toast 19 supports macOS Big Sur 11.0, macOS Catalina 10.15, and macOS Mojave 10.14 (64- bit).
What else can you do with Toast?
Toast can do much more than just burn discs on macOS Big Sur. Enjoy a variety of easy-to-use tools to capture screen recordings, edit photos and videos, enhance audio, even create digital artwork with AI-powered tools! Explore the wide set of features that have made Toast a leading disc and digital media toolkit for 25+ years.